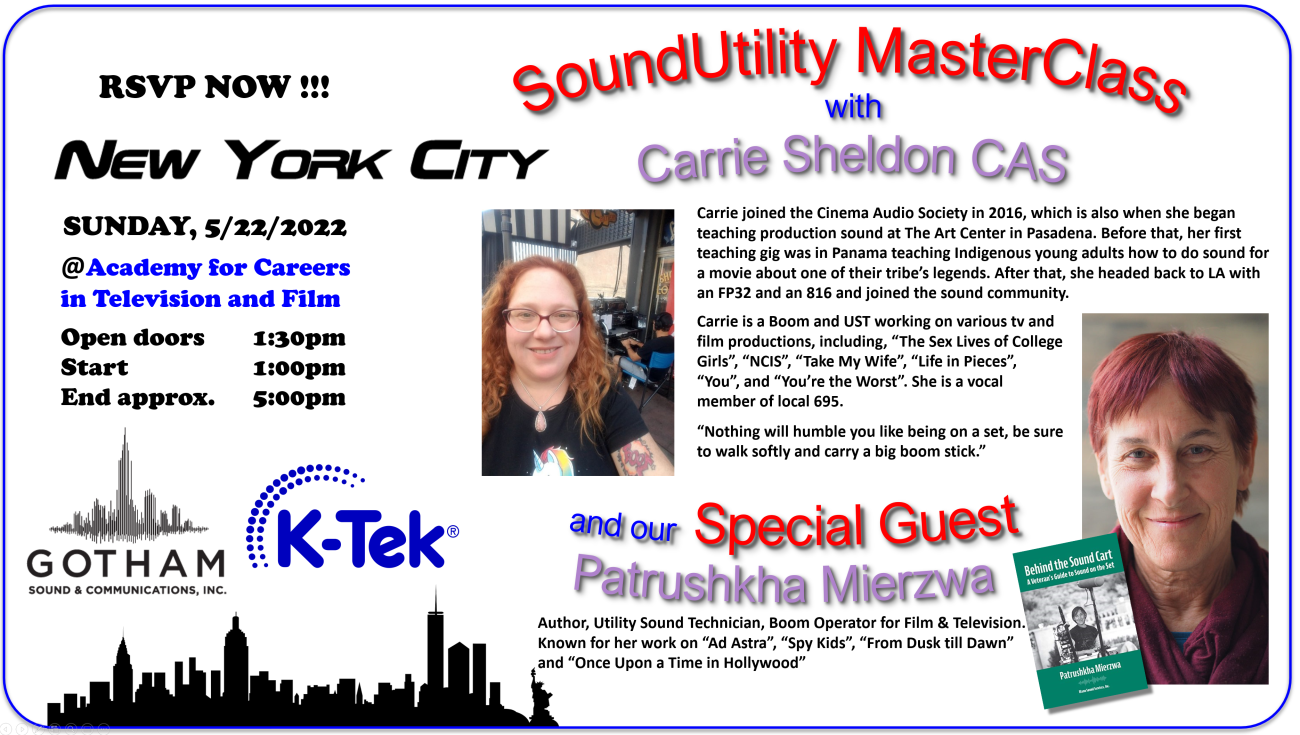 This is a Master Class for the Utility Sound World, and those who want to become part of it.
Carrie Sheldon CAS has boomed and mastered sound utility for TV and Film production throughout an amazing career. Carrie loves her job and loves to share her knowledge and experiences with others. With teaching positions at various higher learning institutions, Carrie is the perfect choice to lead K-Tek's Sound Utility Master Class. Her funny personality and hilarious stories from the battlefields of production sound, make her masterclass informative as well as enjoyable.
Carrie joined the Cinema Audio Society in 2016 and has been a loyal and vocal member of local 695. Her sound credits include features, shorts, TV movies and innumerable TV Series. Watch out for star studded indie feature Moving On hitting theaters near you in mid to late 2022.
Additionally, this New York City MasterClass features special guest: Patrushkha Mierzwa
Patrushkha's extensive credits in various production sound positions read like a list of Hollywood's most famous productions: from cult classic Pet Sematary, via influential masterpieces like From Dusk till Dawn to fun family movies like Spy Kids. Some of Patrushkha's more recent projects included heavy hitters like Ad Astra and Once Upon a Time… In Hollywood.
It took a global production shutdown during the early Covid pandemic for Patrushkha to find the time to write her critically acclaimed book Behind the Sound Cart: A Veteran's Guide to Sound on the Set which has taken the global production sound community by storm.
For Patrushkha's latest work, watch out for Martin Scorsese's latest star studded feature Killers of the Flower Moon hitting theaters near you in late 2022.
Don't miss this truly unique opportunity and join us at this free Master Class!
All of us from K-Tek & Gotham Sound, and of course Carrie & Patrushkha are looking forward to see you there!
Free Admission
Sun, May 22, 2022
2:00 PM – 5:30 PM EDT
Location
Academy for Careers in Television & Film (TvF)
1-50 51st Avenue
Queens, NY 11101
View Map