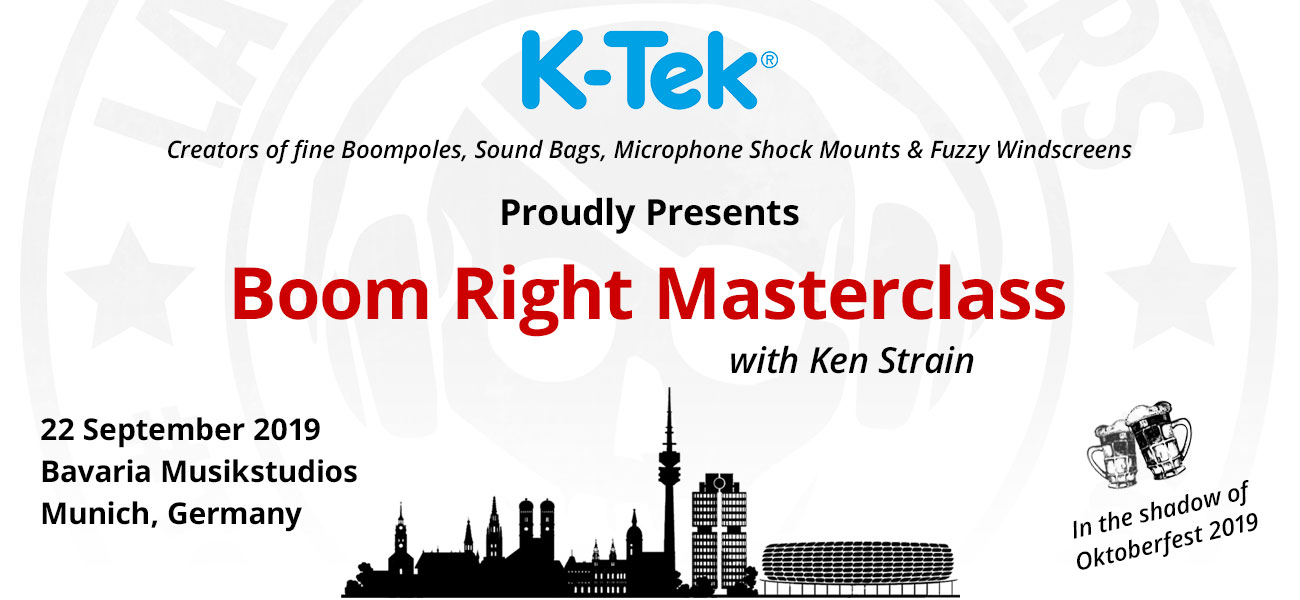 Learn the performance art of Microphone Boom Operating from one of our generations most prolific narrative filmmakers.
Ken Strain has been working since 1993 as a boom operator in Hollywood, California and now lives and works in New York City. He has worked on numerous television series including House MD and Lost, as well as feature films. He now teaches the art and skill of boom operating to the next generation of sound people all over the world. His background in standup comedy keeps the class fun and light, while still very informative.
Credits include House MD and Lost (TV), "Kiss, Kiss, Bang, Bang" and "Identity" (Feature Films)
Free Admission
22 September 2019
10:00 – 14:00
Location:
Bavaria Musikstudios
Schornstrasse 13
81669 München
Snacks and refreshments will be available, courtesy of K-Tek.
Special Guests:
Production Sound Mixer: Don Hale, CAS (Step Into Liquid, Dust to Glory. CBS News: 60 Minutes & Sunday Morning. Various National Geographic projects.
Boom Operator: Kevin Cerchiai (Iron Man 3, Bad Boys for Life, Transformers & Season 9 of The Walking Dead)
Production Sound Mixer: Chris Howland, CAS (Jason Reitman's series Casual, S.W.A.T. on CBS, Adam Sandler's 100% Fresh for Netflix & Destination Wedding with Keanu Reeves)
Very Special Thanks to Berufsvereinigung Filmton e.V. (bvft) for their help and support of this event.
Public transportation in Munich:
Take the Tram 15, 18 or 25 to station "Regerplatz" (20 min from the main train station). From there it is only a 4 min walk. Parking might be limited, but available.