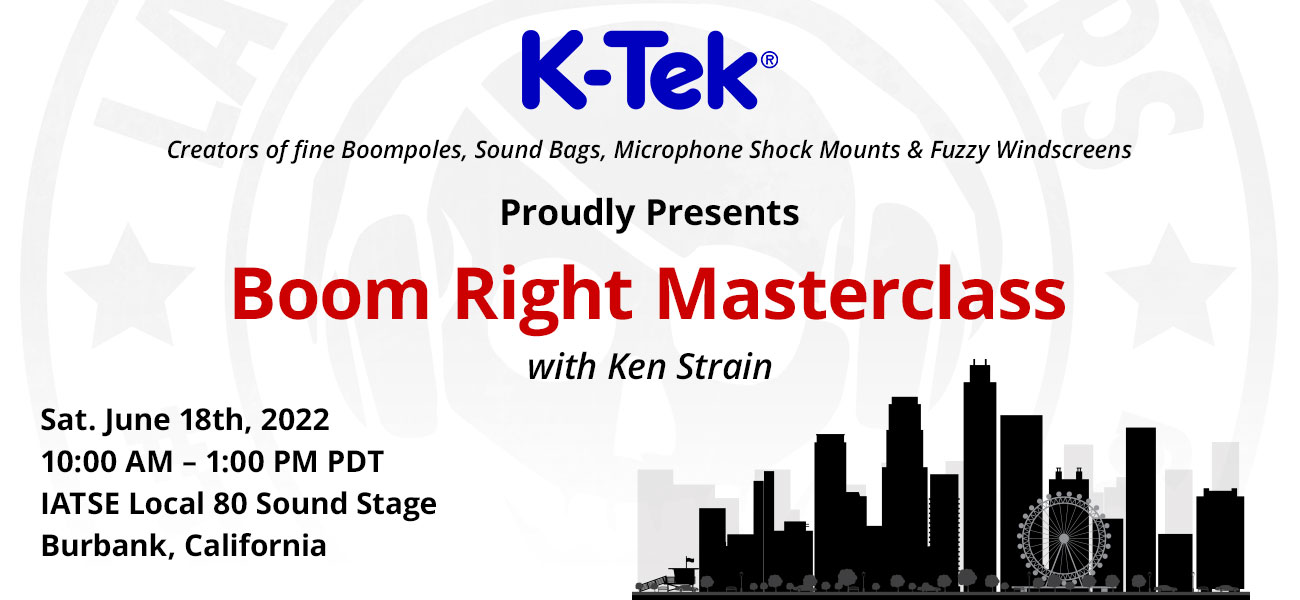 Learn the finer techniques of Microphone Boom Operating from one of the finest practitioners. A seminar with practical knowledge and levity.
Bring your favorite set of headphones and if you have a PR-216 Comtek receiver, BRING THAT TOO!! We will have loaners Comtek Receivers available, thanks to Audio Department and Impact AV, but if you have one BRING IT!!
Topics include
– Equipment Setup – the boom, mic, blimps, what to wear, boom stands, headphones, choices in transmitter placement.
– Basic Technique – the best ways to physically hold and move the boom pole, and being safe on set, deciding when to challenge yourself.
– Adjustments for shorter boom ops.
– Finer points – small details that make a big difference & anticipation of problems or setups.
– And more!
Ken Strain has been working since 1993 as a boom operator in Hollywood, California and now lives and works in New York City. He has worked on numerous television series including House MD and Lost, as well as feature films. He now teaches the art and skill of boom operating to the next generation of sound people all over the world. His background in standup comedy keeps the class fun and light, while still very informative.
Credits include House MD and Lost (TV), "Kiss, Kiss, Bang, Bang" and "Identity" (Feature Films)
Sponsored by K-Tek and Presented by The LA Sound Mixers
Free Admission
Sat, June 18, 2022
10:00 AM – 1:00 PM PDT
Location:
IATSE Local 80 Sound Stage
2520 West Olive Avenue
Burbank, CA 91505