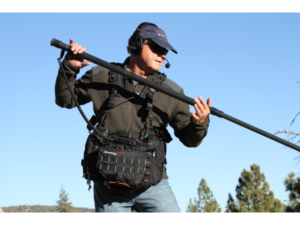 K-Tek celebrates its 20th year of supporting the audio community by expanding its line of Stingray audio bags and accessories. Made to fit popular mixers ranging from the Sound Devices 688 and 633 to the Tascam DR 701D, Stingray audio bags have become a hit among sound mixers. Thanks to input from a dedicated community of mixers and boom operators, K-Tek has designed an innovative Harness that takes the carrying weight off the shoulders and a unique Waistbelt that secures smaller bags—all designed to give audio professionals back-saving options to suit their working style.
Engineered to comfortably support K-Tek's larger audio bags, Stingray offers the first Harness to employ a rigid Exospine backbone. This new technology transfers the weight of all the gear down, through the harness and balanced across and down the hips, instead of weighing down the user's shoulders and back. With its adjustable butterfly configuration that curves weightlessly over the shoulders, plus the proprietary height adjustment ladder, the Harness comfortably fits the widest range of body types.
The Stingray Waistbelt is an easy way to support Stingray Junior and Small audio bags. The bag fastens with two carabiners on each side. The wide, padded belt keeps the bag and equipment easily secure with solid support.
A new host of smart add-ons add efficiency to the sound person's load, starting with the KCH2B cable hangers and buckle. Ready to hang on bags, harness and belts, they help organize cables and headphones. The KSTGD1 DTS Pouch provides a parking place for frequently used gear. It fits on the belt, and folds small when not in use. Fully deployed, it can hold multiple NP-style batteries, AA and 9V cells, transmitters and lavalier mics, and more. The wrap-around KWP Universal Wireless Pouch secures wireless audio receivers to a bag or harness.
The KSERX Holder is the convenient way to carry and protect the Zaxcom ERX while on the camera or a belt. The silicon-like main compartment securely holds the ERX while providing additional protection. The oversized top lip allows easy access to the knob and switch while safeguarding against accidental bumping.
Because K-Tek is famous for boompoles, there's the new KBAC1 Boom & Accessory Holder. This multifunctional gadget wraps around a boompole, cable or headset to hold it in place. The swivel belt-style clip attaches to a belt or bag. To help travel with lengthy boompoles, K-Tek offers the semi-rigid KBLT35B/KBLT52B Boompole cases that feature an easy clamshell design, lengthwise zippers and a removable inner pouch.
For further information or to locate a local dealer contact: www.ktekpro.com